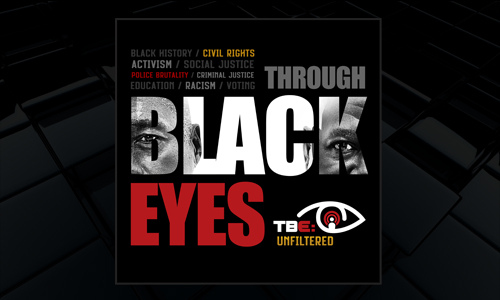 S1, Episode 4 of Through Black Eyes: Unfiltered is back with its final episode, Part 2 of The Civil Rights Movement in Miami, Tallahassee, and St. Augustine, Florida, featuring our podcast stars and brothers, Doctors Marvin Dunn and Raymond Dunn, Sr., along with moderator, Tomeka Napper. Episode 6 also introduces two new guests: Mrs. Delores Davis Hills– who joins us in the studio, and Mrs. Carolyn Reed Abrams— who joins us by phone, to add more to the conversation by sharing their stories of activism during the movement in the 1960s in Tallahassee, Florida.
The episode begins with the historical background of the beginning of the "modern" civil rights movement in Miami in 1946, which lead to beach wade-ins that lead to the establishment of the first negro beach and more. As according to Dr. Marvin Dunn, the "modern" civil rights movement actually began in Miami in 1946 when a group of blacks, mostly World War II Veterans, held a wade-in the all-white Virginia Key public beach each to force Dade County to open a beach for Negroes to swim. This beach is now famously known as Virginia Key Beach, in Miami, FL. Dr. Marvin Dunn, goes on to share that even before the student sit-ins in North Carolina that "supposedly" began the movement (which is a "mistaken view"), in Miami, the first training camps for non-violent civil rights demonstrators were being conducted by a group called "Congress on Racial Equality" also formally known as "CORE". Core was first established in 1942, in Chicago IL by James Farmer, Bayard Rustin, George Houser, Bernice Fisher. Also, in Miami, we discuss civil rights legends, Father Theodore Gibson, who led the wade-in to establish Virginia Key Beach; Miami Times Newspaper Publisher Garth Reeves; M. Nathalie Range, the first black women to be elected to the Miami City Commission; Virgil Hawkins, who was the first black attorney who took his case all the way to the Florida Supreme Court; and more who were instrumental in helping blacks in Miami be treated fairly and equally.
Moreover, as the movement in Florida bloomed in the early 1960s two cities in the state of Florida: Tallahassee and St Augustine, experienced the most wide-spread demonstrations. Those activities were led by Rev. C.K. Steele, and college students (i.e. Sisters Patricia Stephens Due and Priscilla Stephens Kruize, John Due, and others, etc.) particularly from Florida A&M University (i.e. FAMU) in Tallahassee. Our very own, Dr. Raymond Dunn, along with his classmates: Delores Davis Hills and Carol Reed-Abrams, were arrested during those activities and share their moving experiences with us. Their recollections of those events, particularly of how one incident where hundreds of arrested students, organized themselves and survived under such stressful conditions during those egregious times, is a highlight our audience does not want to miss.
As the conversation turns to the civil rights movement in St. Augustine, we discuss the heroic efforts of Dr. Robert Haylings who, along with Rev/Dr. Martin Luther King were instrumental in staging public demonstrations with children, and wade-ins at public beaches and at the infamous Monson Motor Lodge pool, which was operated by Robert "Jimmy" Brock who poured acid in the pool. In addition, the Dunn Brothers share the significance of St. Augustine in terms of being the oldest city in the United States of America, and its long history with being a free establishment for blacks, going all the way back to the late 1500s.
Stay tuned to the conclusion of Season 1, Episode 6 and to hear directly from Dr. Marvin and Dr. Raymond, as to why they choose to end our first season of Through Black Eyes: Unfiltered with The Civil Rights Movement in Florida.
It has been our pleasure.
Podcast (tbe): Play in new window | Download (Duration: 1:16:16 — 174.6MB)